Samin Science is a manufacturer of the latest and most modern laboratory furniture, gas solutions (Gas distribution systems / Regulators / Cylinder Cabinets and Holders / Valves / Purification), lab ventilation systems (Fume Hoods / Chamber Hoods / Reagent Cabinets/ Arm Hoods / MLCP) and lab safety products (Emergency Body & Eye Showers / Safety Cabinets / Waste Bottle Safety Cases).

LABSIS stands for Laboratory System in Satisfaction, a brand name for Samin Science.
Sesneber International is an exclusive and authorized distributor and service provider for SAMIN SCIENCE Co. Ltd. in Saudi Arabia.
[SHORTCODE_ELEMENTOR id=3336]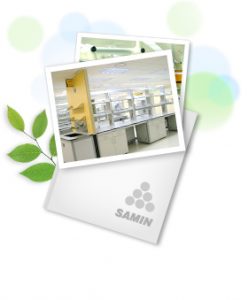 Samin Science specializes in the manufacture of and services for lab facilities and utilities such as lab furniture, lab gas supply, lab ventilation, lab safety and environment related product. Their range of products cover furniture, fume hoods, arm hoods, reagent cabinets, filter stations for toxic gas removal, compressors and dedicated furniture for analytical and medical instruments.
Samin Science is certified for ISO 14001 and 9000, selected as Technology Innovation Company by Korean government and is a SEFA (the International Scientific Equipment and Furniture Association) member.
Their product range covers:
Lab Furniture : Table/Sink/Drawer/Cabinet/Chair
Lab Gas : Gas distribution system/Regulators/Cylinder Cabinet and Holder/Valves/Purification
Lab Ventilation : Fume Hood/Chamber Hood/Reagent Cabinet/Arm Hood/MLCP
Lab Safety : Emergency Body & Eye Shower/Safety Cabinet/Waste Bottle Safety Case